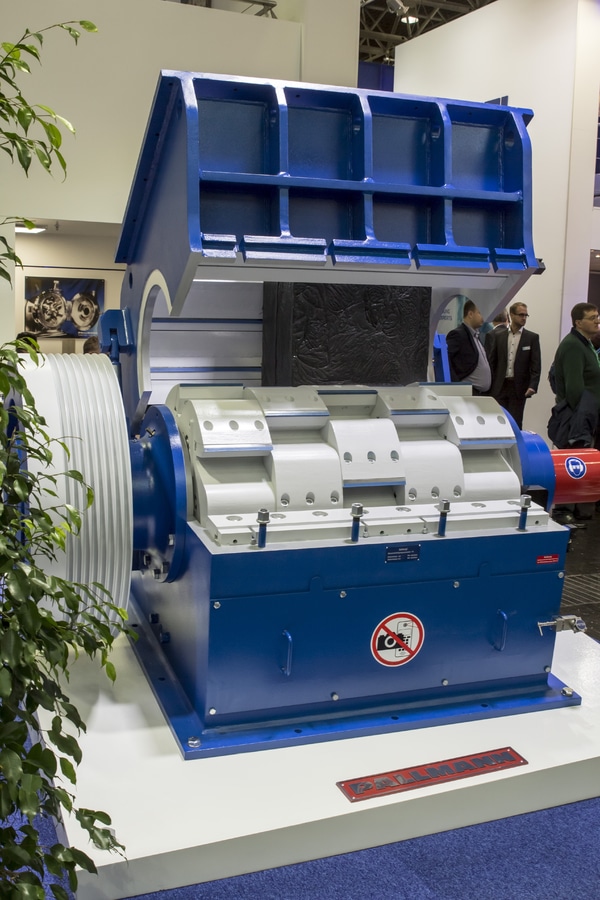 #

Tendencias de productos
Massive purgings easily granulated!
Highly efficient and robust machines are required for granulating plastic purgings. PALLMANN meets these requirements with the new "Heavy Duty" Granulators, PS-I series.
During the extrusion of granules, pipes, profiles and film so-called purgings occur during startup, process interruption or at the end of the extrusion process. Extruded materials such as LDPE, HDPE, PP, PC, ABS, PA, PET or any other types of plastics used for extrusion are normally collected in tub-shaped containers. Thereby significant amounts are collected, as large purgings or lumps being shaped by the tub. Specific for this type of the material are the large dimensions and the high weight. When size-reduced into granules, they can be directly reintroduced into the production cycle thereby saving resources and costs.
Exactly for this application Pallmann has developed the new series of Heavy Duty Granulators, type PS-I.
The series, PS-I 8-12 allows for purgings and lumps up to a size of 1000 x 800 x 800 mm and a piece weight of up to 300 kg to be reduced to a high quality reusable granulate in one step. For larger lumps, the PS-I 12-12 is applied.
The massive HC "Heavy Cut" rotor with its optimized knife arrangement allows for size reduction of startup purgings, respectively lumps of any plastic that is difficult to size reduce. Depending on the infeed material and specifications, the rotor knives, the knife holding plates and the machine housing are optionally available in special wear resistant material. The screens, which determine the granule size, can also be delivered in a special wear resistant material, as an option. Feeding of purgings into the granulator is performed directly from the top by means of a conveyor belt. The robust welded housing can be opened hydraulically for exchanging the knives and the wear parts. All rotor knives are adjusted outside the machine. The high capacity 200 kW main drive motor allows for throughput capacities of up to 2000 kg/h depending on the feed material and the mesh size of the screen.